#1 Designing Structure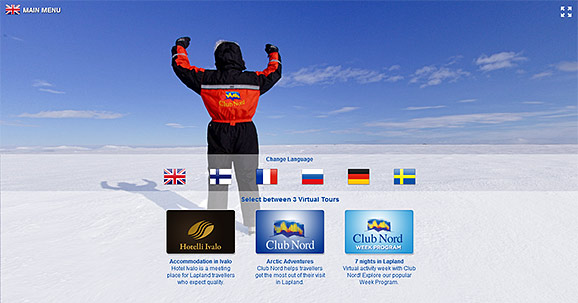 When designing how to categorize and present the vast amount of services, locations and places, we ended up creating not one, but three virtual tours all linked together. Hotel rooms and services make up for the tour #1. Second tour presents all Club Nord's services arranged by seasons of the year.
Club Nord's main products are different kinds of program packages and one of the most popular one is one called the Week program. Due to it's importance, Week program had to be highlighted from the rest of the services so we decided to dedicate a whole third tour to it.
#2 Shooting the material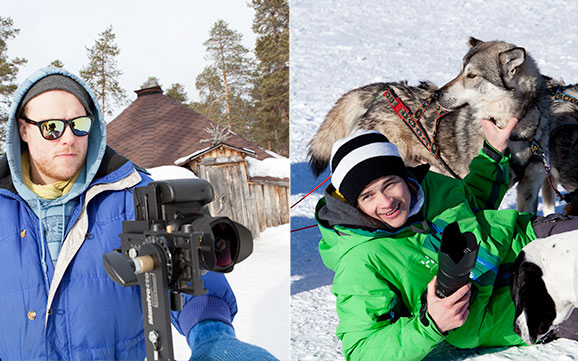 Panoramic photo shoots in Hotel Ivalo were done in a span of couple of days, we went in and out when it was most suitable for the hotel staff and clients. Outdoors activity panoramas for Club Nord were shot when the weather was most clear. To get the coolest arctic shots for the intro, our photographer and a model climbed to the top of the hill Ailigas.
How to present the Week program proved to be the most challenging part. We didn't want to just shoot panoramas of the plain locations and then use text to explain what's up. And we really didn't want to use cheesy Lapp stock photography. We wanted to make the tour more personal to convey the whole Lapland experience better and more credible. Our solution was to send two photographers to accompany a French group of travellers for the whole seven days they were in Lapland as Club Nord quests. As a result, we got a nice outline and a narrative for the tour and a panoramic image for each day of the week. As the days went by and the group had their wintry adventures on snowmobile safaris, sledge dog riding etc., we also captured plenty of great
photographic and HD video material
that can be used in the future for different kinds of medias and marketing projects.
#3 Post Production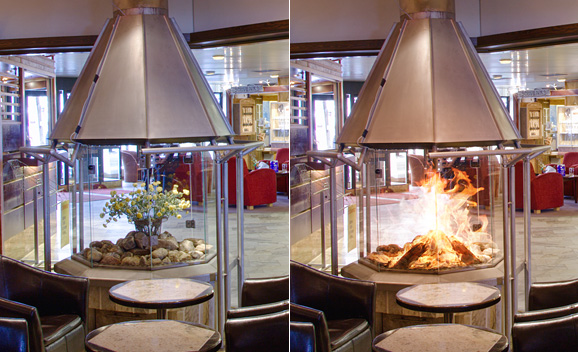 Post production is a phase we like to think we are pretty rad. The panoramas are stiched together, color corrected and converted from huge HDR files to formats suitable for the web. Still photographs are sorted and retouched with stantard professional digital workflow.
Some people leave it there, but we like to take few extra steps when possible. The shadows of the photographer and tripod and other annoying and redundant objects are retouched away, possible stiching errors are cured and images are treated with special techniques to archieve that juicy and sharp image quality on the panorama viewer. Photo manipulation is applied, but with modearation and good taste, so that things won't turn out to be misleading. It takes a bit extra effort, but those small differences add up for notably better outcome.
#4 Graphic design & Technical Execution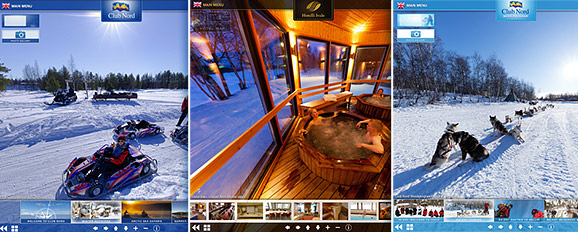 To let the nice image material shine, we had to match it with equally good technical execution. Our graphic designer customized the user interface and layout. In addition three color schemes and navigation menus were created, one for each tour.
The finished tour is available for anyone to view on the Internet. But the main reason the whole tour was commissioned in the first place, was to provide new tools and materials for the sales representatives in the field. As they shuttle through client meetings or visit fairs and other sales events, the tour had to be easy to carry around and to be accessible in different devices. That's why the tour is responsively designed for both FLASH- and HTML5-platforms, and optimized to work smoothly especially on Apple iPad.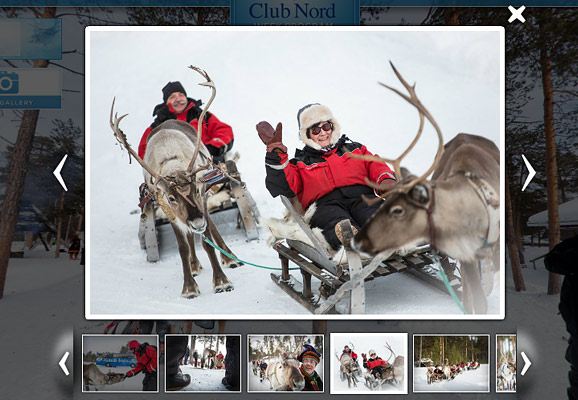 The photo galleries play an important role. Ten galleries hold up to 113 photographs. The galleries are made to be responsive also – the viewer will scale the photos to fit the different screen sized from small smart phones to huge Full HD -screens.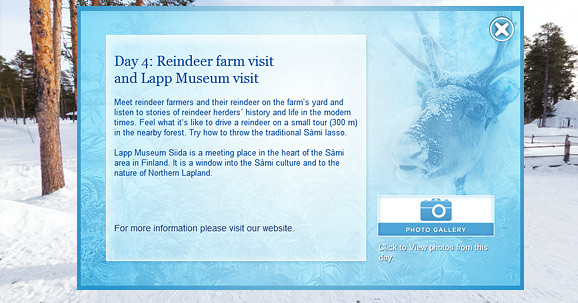 Quality comes with the details. We created a lot of customized graphic elements. For example each of the Week program info box has it's own background to match the theme of the day.

To navigate between the different scenes, we created custom thumbnail menus. Like all text of the tour, the menus are also localized for six languages.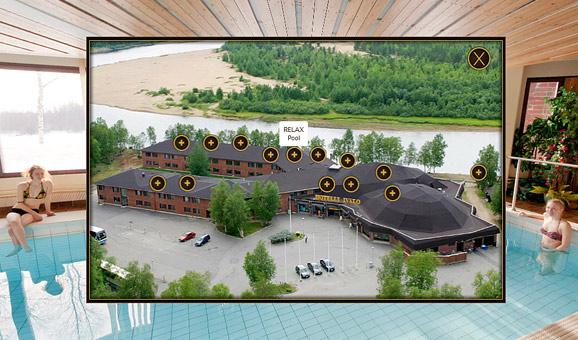 In addition to a thumbnail menu and previous/next-arrow navigation, Hotelli Ivalo has also an aerial map that can be used for navigation. In large virtual tours aerial view or a floor plan helps the user to understand the whole.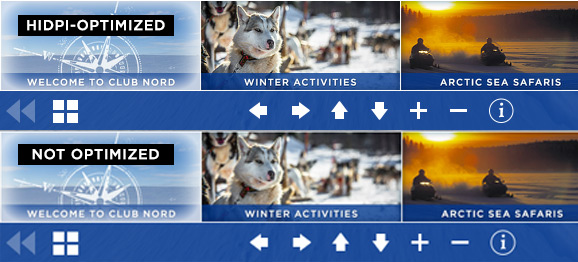 For icing on the cake, the navigation elements and graphics were HiDPI-optimized for high pixel density devices, including Apple products with Retina-displays (modern iPhones, iPods, iPads & MacBooks). The difference in sharpness and clarity is remarkable.
These are just part of the features and details. Launch the Hotel Ivalo & Club Nord Virtual Tour and explore it yourself.